I went through a phase of drawing "woman monsters" - hideous caricatures of women whose only purpose was to destroy men. At the time I felt that this was how men saw women - as oppressive, destructive monsters, and that was how I felt myself. Inspired by a character in Pink Floyd's movie "The Wall" (1982) that morphs back and forth between skinny high-heeled flame-haired woman and hideous scorpion who stings the man, reduced to a puddle...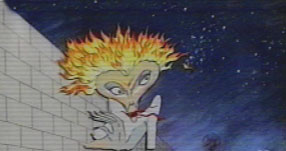 All of the above are scenes from Pink Floyd's "The Wall" (1982)
... I painted my own versions of the "woman monster", mimicking the gaping, consuming features that intimidated Pink in the movie, portraying the woman as oppressive and controlling, using her feminity against men.
Kate E. Austin, "Monster Women" One, Two, and Three, Watercolor, 2004.
This character had many incarnations, as a snake, a spider, a vampire...
Kate E. Austin, "Victim", Collage and acrylic paint, 2004.
This one shows the woman with blood on her face and fangs, and is titled "Victim" - I felt as if I was crying wolf when I complained about the relationship I was in, because I felt just as guilty of the controlling and manipulative tendencies, but was also hurt by his.
Kate E. Austin, "Spider and Fly", Colored pencil and watercolor on matboard, 2004.
This one was also inspired by the Rolling Stones song of the same name, in which the singer cheats on his girl, saying "hi, like a spider to a fly" to a woman at a bar. This one I liked so much that I made it into a mixed-media sculpture as well.
Kate E. Austin, "Lola", Mixed Media, 2006.
Over time, this character/self-caricature has evolved. I left that relationship and moved out of town. The character kept her thin shape, pale face, and flame-hair, but set out on her own. In a piece titled "Being without you is like being with you - It's lonely" she left the figure, locked up in his own cage. She grew her hair long and looked on with blank eyes and no face, desexualized, simplified, and mute.
Kate E. Austin, "It's Lonely", Colored pencil and marker, 2004.
Sometimes without even eyes, reduced to a white body, thin and purified, with her flaming hair. Her face was quiet, but not her hair...
Kate E. Austin, "Pawn", Mixed Media, 2005.
Finally she opened her mouth! After a brief fit of screaming...
Kate E. Austin, "Siren", Watercolor and pen, 2005
...This "pawn" girl, a symbol of simplicity, helplessness, being lost and yet independent and singular, loosened up. She started to bend and to become more playful. She began to enjoy her long locks, and to speak with the words behind her...
Kate E. Austin, "Pawn", watercolor on gesso, 2007.
Finally, she makes it to the end of the board and is "queened," as in chess, publicly, on a sidewalk in Glens Falls.
Kate E. Austin, "The Pawn is Queened", Chalk, 2007.
In recent incarnations, she's reclaimed her human form, flipped her hair back, and resurfaced, taking a gasp of air after being underwater for so long.
Kate E. Austin, "Dive", Acrylic and watercolor on yupo, 2007.